Surgical Robotics
The extensive know-how of surgeons is often limited by their primary tool – namely, their hands. Similarly, robots are capable of a precision and dexterity that is significantly beyond that of the human hand. Robots, however, cannot carry out surgery – they need to be controlled by surgeons.
By controlling the surgical tools (themselves mounted on a robot) via an ergonomic haptic interface, surgeons get the best of both worlds: They are fully in control of the surgical procedures, but they benefit from the precision and scaling ability of the robotic tools. As an added benefit, the computer controlling the robot can add haptic guidance information to prevent unwanted tool behavior, or to locally enhance the tool precision.
Since 2008, our haptic interfaces have been integrated in numerous medical devices starting with the Sensei™ Robotic Catheter System from Hansen Medical which used computed catheter technology to provide stable and predictable control of catheter movement. This innovative technology was designed to provide fine guide catheter control in three dimensions, to enhance the physician's ability to access hard to reach anatomy, repeat procedure steps, and maintain stability during interventional procedures. Our more recent solutions integrate bimanual interfaces with translational, rotational, and grasping force-feedback capabilities.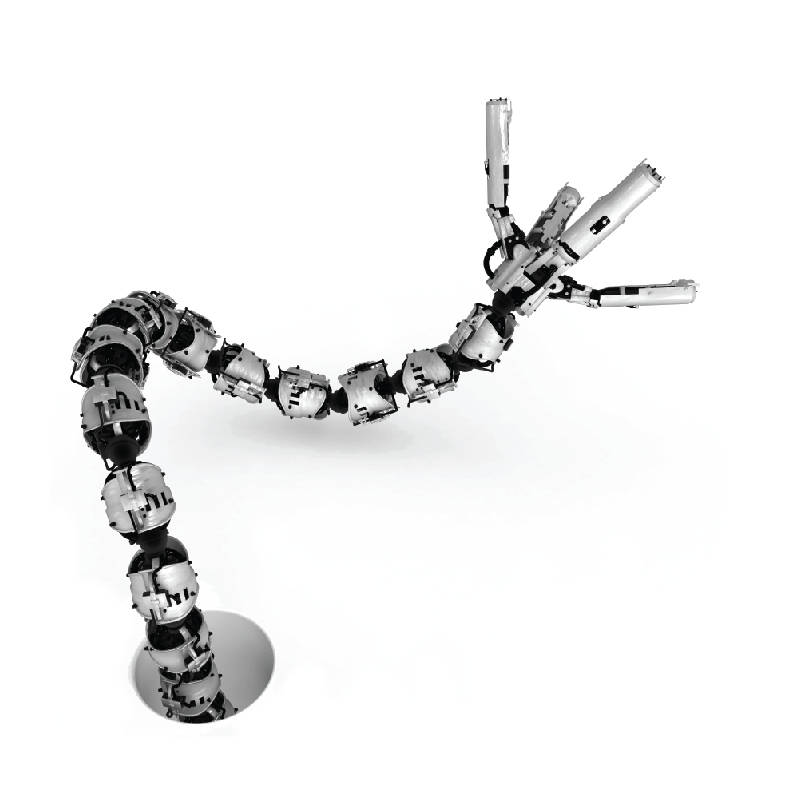 Our high-precision master devices offer surgeons
the finest level of control and dexterity.
Medical Training
Practicing safe medical procedures often relies on fine motor control and hand-eye coordination. Mastering new skills requires a lot of practice, and some tasks can take years to reach the desired proficiency. But while imitation is the usual way of learning, nothing is more effective than having an expert guide the student's hand through the specific gesture to be performed – at first with a firm grip, but then with a progressively lighter grip as the student gains confidence.
Force Dimension has developed unique force-feedback interfaces that connect to immersive simulation systems to model the interactions between tools and virtual patients. The ScanTrainer from Intelligent Ultrasound provides a highly realistic abdominal scanning experience. Movement of the ultrasonic transducer feels just like scanning a real patient, where shape, position and feel change with every patient case, enabling trainees to practice on multiple virtual patients. The courseware modules help trainees to manipulate the transducer developing hand-eye coordination and 3D to 2D spatial awareness when interpreting image relationships. A series of engaging tests are used both to teach and assess skills levels.