delta.3
The delta.3 haptic device combines engineering modularity with the performance capabilities and control technology of the award-winning omega.3 haptic interface. With its large workspace, the delta.3 offers an ideal solution for virtual reality theaters.
Designed for research and engineering experimentations, the delta.3 provides a flexible haptic interface where every parameter can be customized or reprogrammed to exactly meet the application requirements. The delta.3 features a stand-alone USB 2.0 controller which can easily support custom end-effectors with multiple degrees-of-freedom.
The base plate of the delta structure can be oriented from 0 degrees (horizontal) to 90 degrees (vertical) to further accommodate various applications and environments, adding to its versatility. Individual parts of the delta.3 can be ordered separately for users who wish to build their own end-effectors or extensions.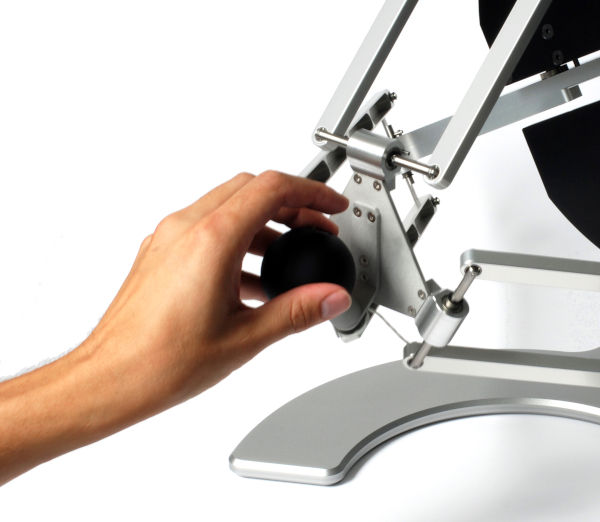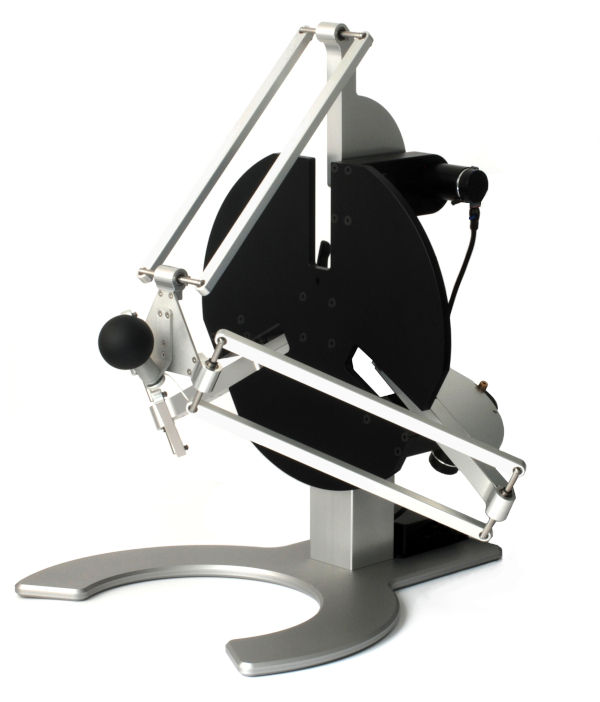 A Unique Modular Design
Finely built around its unique parallel kinematics structure, the delta.3 is designed for performance. Its superior mechanical stiffness, combined with its real-time USB 2.0 controller, enables the rendering of high contact forces at a rate attaining 4 KHz.
To provide the highest degree of haptic transparency, accurate gravity compensation is maintained in translation and orientation space by perfectly coupling passive and actuated components together. Each system is individually calibrated to ensure repeatable and optimal precision and performance.
Its unique kinematics design perfectly decouples translations and rotations, enabling the delta.3 base to accommodate various interchangeable end-effectors to meet every application requirement. To that end, Force Dimension also provides advanced technical support for dedicated applications that require custom end-effectors.

The Force Dimension SDK provides full control over every element of the delta.3, such as encoder readings, motor commands and even the kinematics models, for users who want to develop advanced control applications.
workspace
translation
∅ 400 x 260 mm
forces
translation
20.0 N
resolution
translation
< 0.02 mm
interface
standard
rate
USB 2.0
up to 4 KHz
power
universal
100V - 240V
platforms
Microsoft
Linux
Apple
Blackberry
WindRiver
Windows
all distributions
macOS
QNX
VxWorks
software
SDK Haptics
SDK Robotics
CHAI3D
ergonomics
the device can be used with both left and right hands
structure
delta-based parallel kinematics
active gravity compensation
calibration
automatic
driftless
user input
1 user button
safety
velocity monitoring
electromagnetic damping